The EVL core
Pitching the real-time EVL core
For some applications, offloading a particular set of time-critical tasks to a compact real-time core embedded into the Linux kernel may deliver the best performance at the lowest engineering and runtime costs in comparison to imposing real-time behavior on the whole kernel logic in order to meet the deadlines which only those tasks have, like the native preemption model requires.
In a nutshell, the Xenomai 4 project introduces a simple, scalable and dependable dual kernel architecture for Linux, based on the Dovetail interface for coupling a high-priority software core to the main kernel. This interface is showcased by a real-time core delivering basic services to applications via a straightforward API. The EVL core is a production-ready real-time infrastructure, which can be used as a starting point for other flavours of dedicated software core embedded into the Linux kernel. This work is composed of:
What we are looking for:
Make it ordinary, make it simple
The EVL core is a dedicated software core which is embedded into the kernel, delivering real-time services to applications with stringent timing requirements. This small core is built like any ordinary feature of the Linux kernel, not as a foreign extension slapped on top of it. Dovetail plays an important part here, as it hides the nitty-gritty details of embedding a companion core into the kernel. Its fairly low code footprint and limited complexity makes it a good choice as a plug-and-forget real-time infrastructure, which can also be used as a starting point for custom core implementations. The following figures have been obtained from the CLOC tool counting the lines of source code from the RTAI, Xenomai 3 Cobalt and Xenomai 4 EVL core implementation respectively: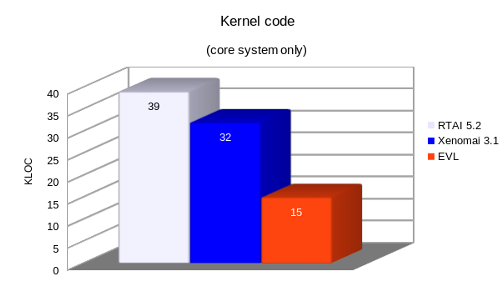 The user-space interface to this core is the EVL library (libevl.so), which implements the basic system call wrappers, along with the fundamental thread synchronization services. No bells and whistles, only the basics. The intent is to provide simple mechanisms, complex semantics and policies can and should be implemented in high level APIs based on this library running in userland.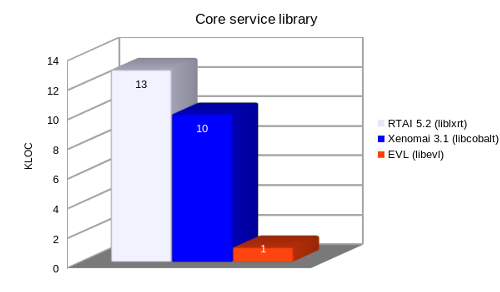 Elements
As the name suggests, elements are the basic features we may require from the EVL core for supporting real-time applications in this dual kernel environment. Also, only the kernel could provide such features in an efficient way, pure user-space code could not deliver. The EVL core defines six elements:
Everything is a file
Each resource exported by EVL to applications is represented by a file. In addition, each EVL element is associated to a kernel device object:
EVL device drivers are (almost) common drivers
EVL does not introduce any specific driver model. It exports a dedicated kernel API for implementing real-time I/O operations in common character device drivers. In fact, the EVL core is composed of a set of such drivers, implementing each class of elements.
EVL also provides a way to extend existing socket protocol families with out-of-band I/O capabilities, or add your own protocols via the new PF_OOB family.
---